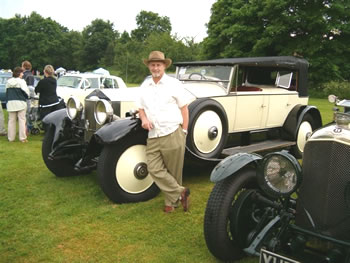 Since 1967 the proprietor has been involved in the hire of classic Rolls Royce motor cars for many uses; weddings, films, music videos, promotions and tours both in the United Kingdom, the United States and on the Continent.
In the 1980's Clive Ellis under the firm name "Vintage Rolls Royce Hire" was performing approximately 250 weddings a year.
Our policies are totally professional in every respect. We are very serious about the jobs we do and have acquired a reputation in this industry which is second to none.
Our aim is to provide a proficient service in an adroit manner with quality Rolls Royce cars that are "simply the best available".
Clive Ellis has supplied cars for a number of films, just to name a few:
Victor/Victoria (1982 director Blake Edwards) - used 1930 American Phantom 1
Give My Regards to Broad Street (1984 director Peter Webb) - used 1963 James Young Bentley
Phillip Marlowe Private Eye (1983 director Bryan Forbes) - used 1927 phantom 1 Torpedo
Reilly: The Ace of Spies (1983 director Jim Goddard) - used 1914 Silver Ghost
Hart to Hart (1979-1984 created by Sidney Sheldon 2 episodes) - used 1973 Corniche
The Two Ronnies (BBC 1970's) - used 1933 Phantom 11 Continental
Paul Daniels Magic Show at Longleat (BBC 1979) - used 1927 Maharajas Phantom 1
Lenny Henry Show (BBC 1984) - used 1927 Maharajas Phantom 1